Museum of Connecticut Glass Seeks Collaboration with Historical Societies, Schools
by Annie Gentile, Reminder News January 12, 2015
reprinted with permission
(click each image to see a larger version of it)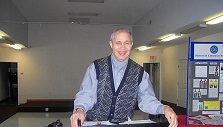 America's first industry was neither textiles, nor iron, nor arms, but rather glassmaking. Early manufacturing attempts met with hardships and often failure, but in time the business of glassmaking and the demand for glass products became an important industry in New England and the northeast, playing an important role in the country's early development and history. With the evolution of different processes for making glass and an ever-expanding range of uses, American-made glass has become a great source of interest for historical researchers and collectors alike.



On Saturday, Jan. 10, at the Coventry Community Center, the Museum of Connecticut Glass hosted "It's About Connecticut Glass," an exchange between local historical societies, representatives from Connecticut glass works, and glass collectors to discuss how they can best share their research and collections, and cooperate with programs and events.

According to Noel Tomas, president of the Museum of Connecticut Glass, there are 15 recorded glass factories in the state which operated between the late 1700s and the early 1900s, plus a few more commercial operations that opened in later years. Manchester's Pitkin Glass Works is the only one of the factories which has some of its remains still standing. Coventry, home to the original Coventry Glass Works, has no remaining factory, but the John Turner house - Turner was an original incorporator of the operation - and an adjacent barn on the property are now on the National Register of Historical Places as the nation's only Glass Factory Historic District.

The Museum of Connecticut Glass owns the Turner house and barn outright, but with limited available funds especially for brick and mortar projects, Tomas said the group is essentially treading water to protect the property until grant or other monies become available. The long-term goal for the house and barn, Tomas said, is to develop the two properties into a go-to destination for exhibits, preservation and educational programs that focus on Connecticut-made glass as well as pieces made especially for the state of Connecticut.

"We'd like to put in a furnace room in the barn to make glass on site, which would greatly expand our educational opportunities," Tomas said. "No state universities are currently making glass as part of their art program, so we see this as a niche," he said. Tomas said the museum's board envisions creating an artisan residence and establishing contracts with some universities. The ability to make and sell glass on site at the museum could potentially attract outside investors to develop the building as well as present a money-making opportunity that would help sustain the museum long-term.

"We'd like to do the furnace in a green way, which we think is doable in this environment today. Senior engineering students at UConn have already done a feasibility study on [green] generation 10 months a year," said Tomas. "It's an evolutionary process. We're all volunteers here, but we have to think about a professionally-run museum and how to sustain that."

Finding ways to attract younger generations to become involved in the history and preservation of Connecticut glass was also a topic of discussion at the meeting, and having a "hands-on" type of exhibit and demonstration area in the barn could work toward that goal.



Junior museum board member Nick Wrobleski, 15, of Killingly, clearly enjoys the hands-on approach, reporting that he has found 30 to 40 kiln fragments and brick fragments with glass stuck to them, pieces he excavated from the field where the former Coventry Glass Works operation existed.

Tom Duff, former treasurer of the Pitkin Glass Works and an avid collector, said a completely intact mini-flask was uprooted a number of years ago by a sixth-grade student participating in a supervised archaeological dig at the Pitkin site. The flask is now part of a Manchester Historical Society exhibit.

"Things move ahead when people who have a common interest in the same things collaborate and share information," said Tom Joyce, who has been active in the Vernon Historical Society. "We need to find ways to promote people to bring their children and grandchildren."