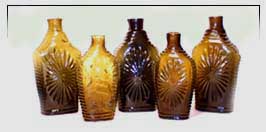 The Museum of Connecticut Glass, Inc.
Founded February 12, 1994
John Turner House
North River Rd. at the intersection of Rt. 44
Coventry, CT
Mailing address: c/o Secretary Andrea Palmer
28 Campert Dr., Ashford, Ct 06278
---
No bottle redemption...
The Glass Museum has stopped its
bottle-and-can redemption program
until further notice.