The Westford Glass Works 1857-1873

But in 1865 he purchases the Westford Glass Co. from a group of 13 shareholders, whose capital stock was worth $18,000. The glass factory had been erected in 1857 not far from the West Willington glass factory, where supposedly bottle molds were exchanged occasionally.



Buck operated the company with two partners under the firm name of E.A. Buck' Co. The Journal reported that the business grew to such an extent that the firm established selling houses in New York and Boston. The company closed the glassworks in 1873 and Buck retired in 1874.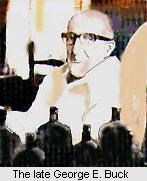 During these retirement years, he served as director of the Stafford National Bank and was one of the original incorporators of the Stafford Savings Bank of which he became president. He resigned all of these offices in 1875 when he moved to Willimantic. There he held large property interests. In that town, he continued to operate the saw mill on the Mount Hope River with power produced by a wheel of 20 horse capacity and did an extensive business in native lumber, railroad ties and the like. He also held large business interests in Stafford Springs and Palmer, Mass.